Students Participate in Stocking & Cleaning the Streams Educational Event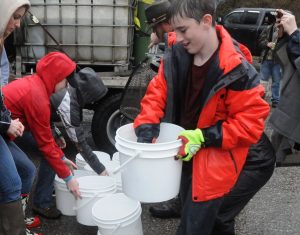 Employees of Appalachian oil and natural gas producer Noble Energy (NYSE: NBL) on Friday joined with partners from Sherrard Middle School, Cameron High School, the Wheeling Fraternal Order of Police (FOP), Cabela's and the West Virginia Division of Natural Resources (WVDNR) to promote conservation and education during the 3rd annual Stocking and Cleaning the Streams day.
More than 30 volunteers from Noble Energy's Marcellus Business Unit spent the day with 75 elementary and middle school students to help clean a 4-mile stretch of Wheeling Creek, as well as Bear Rock Lakes, and stock 9 miles of waterways with 6,000 pounds of trout raised at Indian Lake Fisheries in Elkview. Local WVDNR officers and FOP members joined with the volunteers from Noble and from Cabela's to coach students on fishing, explain the various species of West Virginia trout, and teach the importance of being good stewards to the environment.
This year, volunteers from Oglebay Park's "Good Zoo" also joined students at the lake to teach and let them interact with native bird species.
"Noble Energy has received very positive feedback regarding this event and we are proud to host it for the third year in a row. Our purpose is to 'energize the world and better people's lives,' and we strive to create projects that connect us with other partners, the community and the environment," said Stacey Brodak, Government, Community and Media Relations Senior Advisor at Noble Energy's Marcellus Business Unit. "Not only do we stock and clean the streams, but we make this an educational and fun event for the students involved through education stations and hands-on participation. I think our employees love this event as much as the students."
The students gained valuable insight into the ecology of local streams and the health of West Virginia trout, while learning critical lessons about the importance of volunteering and stewardship. In addition to the time that volunteers worked alongside students, Noble teamed with Cabela's to donate equipment including fishing poles and supplies.
"The biggest thing is getting these kids interested in the outdoors," said Steve Haines, W.Va. Division of Natural Resources Police Officer. "When they get to stock a fish and then immediately fish for it – that's an incredible sight and that's what we want to see – kids getting involved in the outdoors."