2018 Marshall County Reading Teacher of the Year Awarded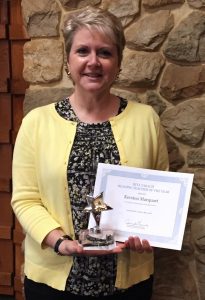 Kersten Marquart, a 6th grade teacher at Sherrard Middle School, has been named the Rita Takach Reading Teacher of the Year for Marshall County Schools because of her commitment to literacy.
"Literacy begins at home," explained Marquart. "Young children are sponges, truly soaking in everything around them.  They must be exposed to all forms of language development at an early age."
Marquart, who has been teaching for 26 years, believes effective reading instruction is a connection between written and oral language. "A good reading program incorporates a variety of instructional approaches by modeling strategies through thinking or reading aloud, independent reading and guided reading," Marquart continued. She always varies her instruction based on her students' needs. Marquart incorporates a combination of lessons that focus on the entire class while the assignments require students to work independently or in groups.
Her colleagues notice her love of literature and language. They say she works diligently to instill that love in her students. Marquart exudes professionalism, has high standards and a strong work ethic.
Each year the Marshall County Reading Council accepts nominations for the award named in honor of Rita Takach, a dedicated Title I Reading Specialist with Marshall County Schools for more than 30 years. Nominees represent certified K-12 teachers who have made outstanding contributions to helping students become proficient readers and motivating them to become lifelong learners.
The other Marshall County finalist was Sherrard Middle School English teacher Christy Fox.
Marquart will represent Marshall County in November at the West Virginia Reading Conference where she is eligible to win the Teacher of the Year award.