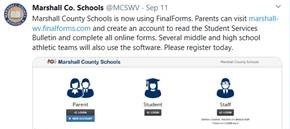 Marshall County parents now have an option to use electronic forms for beginning of the year forms and athletic forms.  MCS purchased FinalForms for our schools, parents, and students to use for the 20-21 school year. 
A parent can create an account which will then be used to associate their child with them.  After filling out the form with basic contact information, the information can be used for multiple children without having to enter all the information again.  And next year, the information will still be there so student registration and updating of information will be even faster.
More information about FinalForms can be found by clicking HERE, and the login for Marshall County is at https://marshall-wv.finalforms.com/.